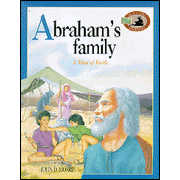 Abraham's Family: A Man of Faith
By John Morris / New Leaf Press (master Books)

Do you know about Abraham, the ancestor of the people of Israel? His life is filled with mysterious adventures: the God of the Bible promised him land and an immense family! In this book you will read his story, which has been told for 4000 years. You will meet his son Isaac, a man who was faithful to God, his grandson Jacob, who struggled with God, and his great-grandson Joseph, the slave who became prime-minister. You will thus learn how Abraham became the ancestor of the great family of believers to which you belong. Appropriate for ages 7-10.